EFSC-03 Electronic Fan Speed Controller
The EFSC-03 series Fan Speed Controller provides simple low cost, and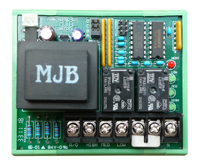 effective method of speed / noise control of three speed outdoor fan motors on the following types of HVAC equipment in a simple DIN rail mountable unit.

Packaged Air conditioners.
Heat Pumps.
Commercial Refrigeration Equipment.
The EFSC-03 also provides field personnel with constant visual indication of current fan speed, current operation mode (Invert or Force to High) and temperature probe condition.
It is often undesirable that an outdoor fan run continuously at maximum speed.
Some issues such as system performance may be reduced, and excessive noise
from the outdoor fan particularly in today's noise conscience environment are examples.

The EFSC-03 helps to alleviate these problems by providing an effective means
of selecting the most suitable fan speed for the current conditions.
Avion FSC321
Avion FSC322
Avion FSC323
Avion FSC324