EDF-02A Microprocessor Demand Defrost Control with Fuzzy Logic for Heat Pumps
The EDF-02A demand defrost controller is suitable for Heat Pumps, Reverse Cycle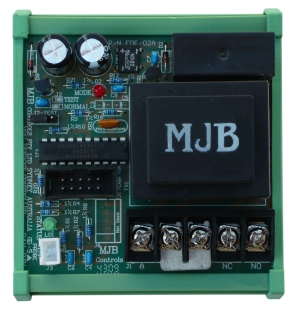 Air Conditioners, Swimming Pool and Spa's heaters and other HVAC equipment requiring accurate and reliable defrost control. The performance and efficiency can be reduced when uncontrolled ice build-up is allowed to continue to form on the outdoor heat exchanger of an air-cooled heat pump.
The MJB EDF-02A also has LED indication of running status and fault diagnostics. (i.e. Ready, Pending, Sensor fault, Defrost mode, Sensor temperature etc.) The EDF-02A demand defrost controller is our latest offering using microprocessor technology; this technology provides greater accuracy and flexibility. Through the use of the MJB EDF-02A on-board flash-programming socket, specific customer requests have never been easier.
Superior industry leading fuzzy logic control means optimum defrost all the time every time. No dip switches to set like some inferior brands. Australian designed and manufactured.
Available at all refrigeration wholesalers Australia wide.
Avion DFT125 / DFT126
Avion TRN 003 / TRN003
ICM315
Saginomiya SFB-X356
Saginomiya DDEKBA1519RQ
Ranco E15-2217-257
MJB Controls EDF-02
Trane CNT02897
York CH697A
Dunnair DHF v1.0